The 2010s are into their eight year, wow that has flown by. A lot is made of the state of the music industry currently and that age old statement is said: "music was so much better back in the good old days". Well although I can often agree with people's grumbles about modern music, particularly the death of bands and the introduction of brainless EDM, there are still shining lights amongst us don't you worry. Upon creating this list it did actually make me realise how fantastic some of the projects we have been treated to are. We still have a large portion of fantastic artists who are pushing the culture forwards and trying to create innovative sounds and it is those who I shall be celebrating with this list. I hope you enjoy it and please remember that this is all personal opinion.
10. J Cole – 2014 Forest Hills Drive
Did you know this went double platinum with no features? The ongoing meme of this album and it's crazy success given the lack of commercial appeal is part of the reason people love it so much when in actual fact, it is an absolute stunner of an album. Whether you want a slow jam like 'Wet Dreamz' or 'Apparently' or a hard hitting banger like 'A Tale Of 2 Citiez' and 'G.O.M.D.' this album has it all. A 13 track album of hits and supreme talent, entirely self-dependent and absolutely brilliant. It is easily Cole's best project and without doubt it is one of the best hip-hop albums of this decade, it has all the credentials to be a genre classic.
9. Frank Ocean – Blond
The best album of 2016 bar none, Frank made us wait for this one that much is for sure. With that being said, once we were treated to 'Blond' all was forgiven, we could hear the progression, the journey that Frank Ocean had been on to create the perfect sound to his music and to mature from his days of Odd Future and debut album 'Channel Orange'. 'Nike' is stunning, 'Nights' is a toe tapping bop and 'Futura Free' is an emotional rollercoaster, as well as a blinding guest feature by Andre 3000 on 'Solo Reprise'. This album couldn't be topped in 2016 and it has soared Frank to the top of the game, becoming one of music's most loved and cherished assets. He could literally retire tomorrow and we wouldn't begrudge him because he treated us to this.
8. Disclosure – Settle
This album is a true celebration, a return to form for classic electronic dance track, courtesy of Disclosure, a couple of young lads who wouldn't strike you as this talented at all. This album is absolutely STACKED with colossal hits and iconic house beats as well as having some very brave and high profile features, with the likes of Sam Smith, London Grammar and Eliza Doolittle changing their styles to create floor filling bangers. Every gamble they took paid off and as a result we were given an album of sheer class from top to bottom. 'You & Me', 'Help Me Lose My Mind' and 'F For You' are my personal favourites but in honesty they're all bangers and they rekindled the flame of funky electronics in the music industry.
7. Alt-J – An Awesome Wave
A viral video has spread in regards to how to write an Alt-J song, creating a bit of a laughing stock stigma around the band, but let's not forget the absolute brilliance of their award winning debut album 'An Awesome Wave', which conquered a stacked group of competitors including Plan B, Michael Kiwanuka and Ben Howard to the Mercury Prize in 2012. They had an album which was bizarre to the core and yet every single track could have been a single, I can't think of many bands who can create a sound like Alt-J's and still keep that commercial sound at the helm. Of course they had wild success with 'Breezeblocks' and 'Something Good' but it was the songs like 'Tessellate' and 'Fitzpleasure' which really stood out for me and made this one a classic. They are yet to replicate this huge album but they're comeback is imminent so we can only hope for more brilliance from them.
6. Travis Scott – Rodeo
An accidental concept album, how does that even happen? This album took Travis Scott from Houston to the big time, from the streets to marble floors, from rags to riches. Yes he had mixtape success beforehand but none of them came close to this, one of the most technically risky and talented hip-hop albums I have heard in a very long time. Lead single 'Antidote' will ring many bells with neutrals and rightfully so given it's popularity and how much of a tune it is. It's the likes of 'Apple Pie', 'Maria I'm Drunk' and '90210', however, that make this album so special, trap songs with a completely unique sound; a psychedelic take on a hardcore genre. In short, Travis broke the rules on this song, he flew through the wall of uncertainty and brought us the light, he showed everyone that trap music didn't have to be like it was, and my god he was right.
5. The xx – xx
Dark, mysterious, genius. The London based trio's debut album caused shockwaves in the music industry and completely evolved the way we view the indie and alternative genres for good. 'Intro' is still the most remarkable piece of music you will hear and is hands down the best album opener out of any on this list, while lead singles 'Islands' and 'Crystalised' are passionate but still gloomy and left field. Romy, Oliver and Jamie work perfectly together and there isn't a single group who can replicate what they do, and god knows people have tried. Listen out for the piano on 'VCR' as well as that is just lovely, the production of the album from start to finish is absolutely magnificent and it convinced me that Jamie xx was and still is this country's supreme music producer. Oh, and it won the Mercury Music Prize in 2010, beating Biffy Clyro, Foals and Dizzee Rascal to the crown.
4. Tame Impala – Currents
Australia's best export since Tim Cahill, Kevin Parker and co. who prefer to go by the name of Tame Impala have had a gradual rise to fame in this country particularly. 'Lonerism' in 2013 was their second release and was fantastic but it wasn't really until 'Currents' in 2015 when the world stood up and took notice of Tame Impala for what they truly are, a catchy psychedelic band with a unique flavour to their sound. When you open an album with 'Let It Happen' and end it with 'New Person, Same Old Mistakes' you are onto a winner, let along having hits like 'The Less I Know The Better' in between. 'Cause I'm A Man' and 'Yes I'm Changing' are personal favourites of mine and this album will forever remain in my back catalogue of classics, no matter how modern you may deem it.
3. Kendrick Lamar – To Pimp A Butterfly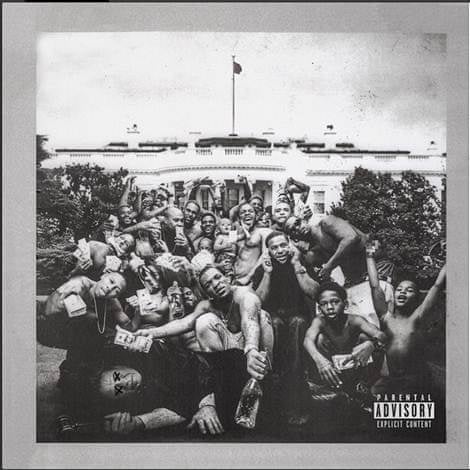 A cult classic. There isn't a weak song on this album from Kendrick Lamar, from the big hits 'i' and 'King Kunta' to the album tracks of 'Institutionalized' and 'Hood Politics'. He was given ELEVEN Grammy nominations for this masterpiece and it truly was the album that certified his spot as king amongst the masses (we knew he was king long before this album came out). 'How Much A Dollar Cost' is Barack Obama's favourite song so it is an instant classic and 'Mortal Man' holds an eight minute conversation with the late Tupac at the end to complete the masterpiece. The production is magic, with Flying Lotus and Thundercat doing bits alongside the likes of Pharrell Williams and SZA; and of course Kendrick's bars are god-level. This album is just incredible and who can forget the poem he crafts throughout the album before reciting it to Pac at the end? Unbelievable stuff.
2. Kendrick Lamar – good kid, M.A.A.D city
The most culturally important album of this decade, Kendrick is better known by the general public for 'To Pimp A Butterfly', the album which came after this one but fans of hip-hop will be well aware of the sheer genius behind this project. Lead singles 'Bitch, Don't Kill My Vibe' and 'Swimming Pools (Drank)' became club anthems alongside their hugely influential meanings, especially in the latter where he challenges alcoholism. 'Sing About Me, I'm Dying Of Thirst' steals the show on the whole album as a 12 minute piece about life on the streets and Kendrick's acceptance of death, it is just chillingly magical. The best part of this album? The tale it tells of course. Teenagers on the streets of Compton with drugs and gangs, with all the dangers that come with it. You find yourself completely engulfed in the anecdotes he tells and it begins to feel like a motion picture towards the end, it is special, truly special.
1. Kanye West – My Beautiful Dark Twisted Fantasy
Do I really need to justify this decision? Like at all? If you disagree with me I would love for you to name one album, just one is all I want, that is better than this from our very own twisted genius Kanye West. Let me run through some of the songs that are bangers. ALL OF THEM. Every. Last. One. Every feature is crisp and on form (apart from Jay Z on 'Monster'), he has two of the biggest hype songs of all time in 'POWER' and 'All Of The Lights' come one after the other, and he even has time to throw in some heartbreak anthems and a Bon Iver feature, mesmerising to the very core. A polarising album for a polarising figure? Sounds about right but one thing is for certain, this is a world class album from a truly masterful artist who will, whether you like it or not, go down as one of the greatest of our generation, if not THE greatest. If I had to tell you to listen to three songs, they would be 'Gorgeous', 'Devil In A New Dress' and 'Runaway', but just do yourselves a favour, put your Kanye agendas to one side, put down your pitchforks and give it a chance, because I guarantee you there is at least one song on this album that will take you by surprise. AT LEAST.