In this the second instalment of my playlist of the month series, you will see the ten songs I have been listening to more than any in the month of February, varying from trap bangers to close friends releasing some fantastic new sounds. This month followed somewhat of a structured pattern for me when it came to listening to music as I had the same songs coming back to me and becoming appealing to me. This one will involve more hip-hop than others due to my recent hype on certain artists and albums. I hope you enjoy and be sure to let me know what you have been listening to this month as well.
China Lane – In Motion
This is a brand new track courtesy of my friend Jack Lightfoot's band China Lane, a group who I am certain will go on to achieve so much in the music industry because they are so talented and refreshing to listen to. This, their second single, is no exception and is thoroughly enjoyable from start to finish. I also really like the cover art, the simplicity of it stands out and makes it very appealing as it isn't too over the top. The track itself is upbeat and groovy with some top quality production on it. Really quality work guys and I can't wait to see what is next in your story.
Meek Mill ft. Tory Lanez – Litty
Drake's biggest victim to date has been going about his business shrewdly since his encounter with the Toronto rapper in early 2016. Meek Mill is of course his name and this mixtape he released fairly late on in 2016 is full of trap bangers and this is perhaps the biggest tune of the lot. I have never been Tory Lanez's biggest fan but he does work on this hook, unleashing his inner Travis Scott and producing a memorable and quite frankly 'lit' hook. Some of Meek's best work and I would say I have listened to this every day in February.
Kanye West ft. Justin Vernon – Hold My Liquor
My favourite song off one of my favourite ever albums, it had to make an appearance at one point. It was just a matter of time before I got back on my Yeezus hype and now I have well and truly arrived there. The production of the whole album is just masterful and it is such a statement from Ye, this song is another one of those which shows his fragility to the agenda people have against him. Justin Vernon of Bon Iver works wonders with the aid of production on this song as well as his slurred vocals implying an intoxicated attitude. Chief Keef on a hook shouldn't work but my god it works here. Please listen to this track if you haven't, it is sheer art from this generation's biggest superstar.
Travis Scott ft. Rich Homie Quan & Young Thug – Mamacita
One of my favourite tracks from Travis' mixtape 'Days Before Rodeo' and that is mainly due to how twisted and bizarre it is. The beat is grotty and dark with strong bass pedals and wavy keys. Travis raps hard on this track without autotune and I really like the bounce back from regular rap voice to his enhanced hook voice. Rich Homie Quan has a verse that sets us up for Thug, not a lot more really. This is when Thugger was truly at his craziest as well as we can hear from his ongoing ad-libs both during his verse and after it. Travis' artistry never ceases to amaze me and this song is yet another example of it.
Flume ft. Vince Staples & KUCKA – Smoke & Retribution
Fresh off his Grammy win for 'Best Dance/Electronic Album', I have been going back listening to Flume's 'Skin' album a lot recently and this song still stands out as the highlight of a great body of work. Vince Staples is seriously hard on this beat which is genius in it's craft and invention, setting Vince up perfectly to spit some heat. All three of his verses are short and snappy but give us a wonderful lay off period od groovy dance beat before KUCKA does a stunner of a hook. Such a cool track this one, I could easily listen to it on repeat.
Future – Mask Off
On first listen I knew this would be the most popular song from Future's self titled album and I wasn't wrong, with it being played over 11 million times since it's release on February 17th. The beat is wacky and unlike something you're likely to hear again this year, with the wind instruments sounding like something from Sherwood Forest. Future goes off on it too and really demonstrates his great flow, even if you don't have a clue what he is saying at least it sounds fire.
Migos – T-Shirt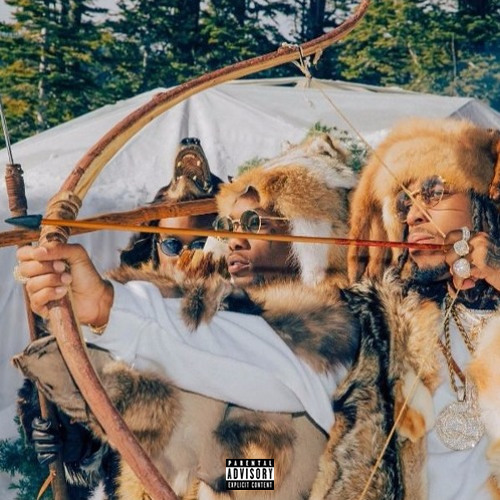 These three truly are repping the culture. Offset, Quavo and Takeoff, otherwise known as Migos, are releasing banger after banger nowadays and I genuinely think this new surface could be on par with Bad & Boujee; it is that catchy. From those "skrt skrt" ad-libs to their hot flows, this song really does set alight every time you hear it and a lot of that is surely down to Quavo being on the hook, the man is a serious miracle worker on the hooks. I really love the stutter they all have in their verses because it really helps with the bop of the beat rather than just trying to spit flames at 10000 mph. These guys are the real deal that's for sure.
Daft Punk ft. Julian Casablancas – Instant Crush
Two of my all-time favourites came together for this 2013 anthem, forming legendary electro-dance group Daft Punk and The Strokes' frontman Julian Casablancas for one track only and it is such a great blessing to hear. Anything sounds better over a Daft Punk beat, that is a well documented fact and it is even more true when involving a high keyed Julian Casablancas vocal performance. This is alongside 'Lose Yourself To Dance' as my favourite track on the Grammy winning album 'Random Access Memories' and I would recommend it to all of you.
Thundercat ft. Kendrick Lamar – Walk On By
This is why Thundercat is the best producer on Earth at the moment. He puts so much swagger and suave sophistication in his beats and the song itself is cool enough without King Kendrick Lamar's fantastic verse. That is literally just an added bonus to an already incredible song. As soon as I heard that Thundercat was coming back with an album I knew that he would have a Kendrick feature after the work done on K-Dot's critically acclaimed 'To Pimp A Butterfly' album, where both Flying Lotus and Thundercat demonstrated their superhuman abilities in the production department. Listen to this song and you'll feel at peace, it is so chilled out and cool.
Stormzy ft. Ghetts & J Hus – Bad Boys
This song is so cold it really does bump seriously hard. Coming from his new album 'Gang Signs And Prosper', Stormzy has brought us a brilliant collab with fellow grime stalwarts Ghetts and J Hus and it is probably my favourite song on the album as a result. Stormzy spits so many strong bars and it is songs like this which will make grime a worldwide entity rather than being somewhat of a closed genre. Stormzy is joining Skepta in terms of grime royalty already, that is how good GSAP is.